Simple Solutions for Unblocking a Clogged Drain
One of the most common plumbing problems that homeowners experience are clogged drains. Fortunately, there are a few drain cleaning methods that you can try on your own to help remedy the problem. Here are 4 methods that you can try: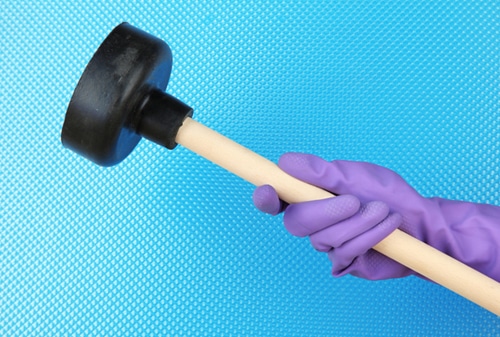 Plunger
Most homes have a plunger near toilets for those potentially embarrassing moments when a toilet gets clogged, but did you know that they can be used on other drains? If your kitchen sink or bathtub is draining slowly, you can use a plunger to push the clog down to the main sewer line to clear a path for the water. Place the plunger over the drain, and push down vehemently. When you remove the plunger, the water should go down the drain. It may take several tries before the water goes down completely. Make sure to clean the plunger after use, or you could have a separate one that you use in your bathroom, so you aren't needing to use the same one for your kitchen sink.
Baking Soda
There are lots of chemicals that you can use to clear the drain; however, most of them will cause long-term damage to your pipes. Instead of using these harsh chemicals, you can use things that you probably already have around your home. Start with about 1/2 cup of baking soda. Pour the baking soda down the drain. With a rag in one hand, pour about 1/4 cup of vinegar down the drain. Quickly place the rag over the drain.
The baking soda and vinegar will create a chemical reaction, causing it to bubble over. By placing the rag over the drain, you'll force the reaction down the drain, cleaning it out in the process. Let the drain set for about 30 minutes. Then, pour boiling hot water down the drain to clean out leftover residue. You can repeat this as often as you need, and you can use it to clean your drains on a regular basis, too.
Auger
You can purchase an auger from your local hardware store. There are different types, so you should choose the one that will work best for your drain. For example, if you're cleaning out hair from your shower or hoping to catch something that you dropped down the drain, you could get one with barbs on the end. The auger will be fed down the drain until it pushes the clog out of the way or grabs the thing that has been in the way.
Wet Vacuum
If you choose to use a vacuum, make sure that it states that it is safe to use with water so you won't be electrocuted in the process. It can be used to remove excess water, or you can catch items that fell in the drain. If there is something that you would like to retrieve, place pantyhose over the vacuum nozzle.
When you have a clogged drain, there are plenty of things that you can do to try to fix it on your own. If you're struggling to remove the clog, you may require professional assistance to come to your home and examine the issue. Contact Aaron Plumbing, Heating and Air to schedule a time for us to come to your home and fix the clog for you.