Buford's Transition: Embracing the Tankless Water Heater Revolution
Ah, the water heater. For years, these sizable tanks took up space in Buford homes. But now, there's a sleeker, more efficient player in town: the tankless water heater. At Aaron Plumbing, Heating and Cooling, with over 45 years of plumbing prowess, we've been at the forefront of this transformation. Let's explore why tankless is the talk of Buford.
The Allure of Tankless Water Heaters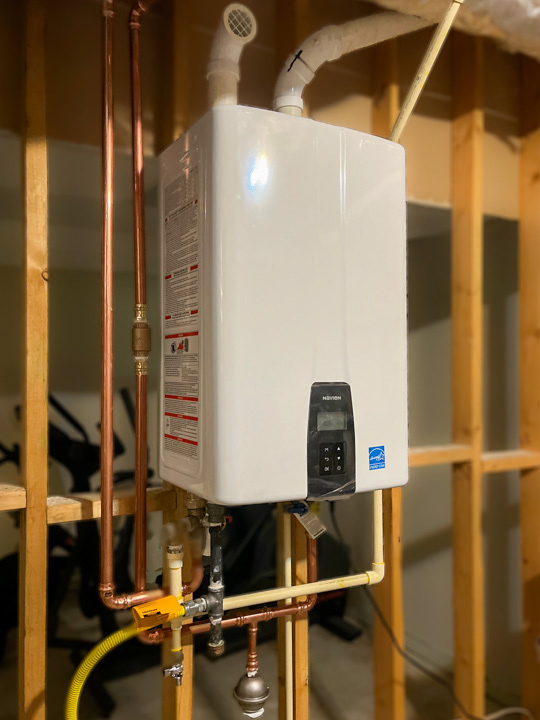 Compact and Contemporary
Gone are the days of dedicating an entire closet to a water heater. Tankless models are not only compact but also modern in design, fitting seamlessly into any home.
Efficiency Equals Savings
Traditional heaters constantly work, heating water even when not in use. Tankless models, however, heat on demand, ensuring energy isn't wasted, which translates to savings on your bills.
Endless Supply of Warmth
Remember rationing hot water during family gatherings? With tankless systems, those days are history. Enjoy a continuous flow of hot water, anytime.
Tankless: A Perfect Match for Buford's Vintage Homes
Retaining Old-World Charm
Buford boasts a plethora of vintage homes. With their compact design, tankless heaters integrate without disrupting the home's aesthetic.
Flexibility in Installation
We recently installed a tankless where in a charming 1930s Buford bungalow. The tankless heater fit perfectly in a discreet corner, preserving the home's integrity and design.
Choosing Your Tankless Water Heater: What to Consider
Size is Crucial
Ensure the heater aligns with your home's needs. Too small, and it might not cope. Too large, and you might overpay. This is where the advice of an experienced professional can ensure your investment in a tankless is a lasting comfort, rather than a headache.
Brands Matter
Opt for reputable brands. Over the years, we've identified the best players in the tankless market, ensuring longevity and performance. Yes, you can find anything on Amazon, but when it comes to tankless, you don't want to. Choose a brand with proven performance history, professional grade components, and a designated customer service department to assist with any warranty or service questions.
Aaron Plumbing's Top Recommendation for Tankless Water Heaters in Buford
Having been in the plumbing business for over 45 years and having installed countless tankless systems, there's one brand that consistently stands out: Navien.
Navien: The Gold Standard in Tankless Technology
Durability & Performance: Navien's tankless water heaters are built to last, ensuring homeowners get a return on their investment for years to come.
User-Friendly Features: Navien isn't just about performance; they understand the homeowner's needs. Their systems come with intuitive controls and features that make them a favorite in Buford homes.
Energy Efficiency & Design: Navien leads the pack when it comes to energy efficiency, helping Buford residents save on their monthly bills. Plus, their sleek design ensures the heater blends seamlessly into any space.
Installation & Upkeep with Aaron Plumbing
Expert Installation
Our team ensures a smooth installation, treating your home with respect. Most of the tanklesses that we are called out to repair have problems caused by improper installation. Often these tanklesses were installed by a home builder, handyman, or under qualified plumber. Tankless water heaters are sophisticated technology. They are superior products and require certified tankless professionals to install properly. Improper installations can create ongoing, complicated performance issues.
Consistent Maintenance
Routine tankless maintenance is vital. Regular maintenance ensures that your warranty is honored and that your tankless performs at it's optimal efficiency year round.
FAQs About Tankless Water Heaters from Our Buford Customers
How long do tankless systems last?
With regular maintenance, over 20 years.
Initial cost vs. long-term savings?
They might cost more upfront, but the energy savings make them cost-effective in the long run.
DIY Tankless Water Heater installation?
We recommend professional installation for safety and efficiency.
How fast do they heat water?
Almost instantly. Hot water in seconds.
Tax incentives in Buford for tankless systems?
Both local and federal incentives often apply. We can provide the latest information.
Buford's Future: Why Tankless is Here to Stay
The shift to tankless water heaters in Buford isn't just a fad—it's the future. Their efficiency, design, and longevity make them a no-brainer for homeowners. And as Buford continues to evolve, Aaron Plumbing, Heating and Cooling remains committed to guiding its residents through every plumbing innovation.