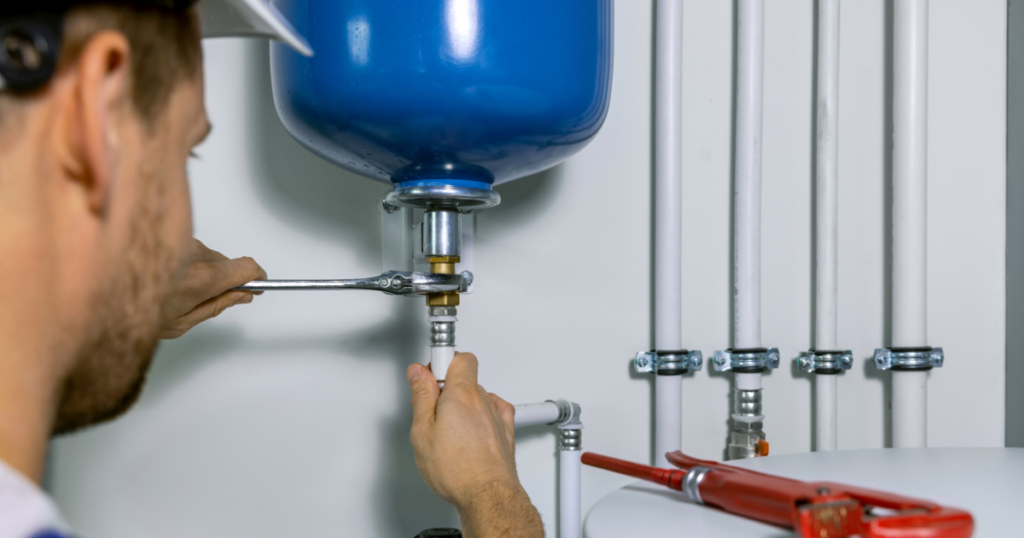 Unlock the Full Potential of Your Plumbing System
Welcome to Aaron Plumbing, Heating, and Cooling, where we offer expert expansion tank installation services you can trust. Let us guide you on the journey of optimizing your plumbing system. We understand how important expansion tanks are in protecting your water heater and making your system stable and efficient.
Imagine a plumbing system that keeps everything steady and provides hot water whenever you need it. Our water heater experts are here to make that happen by giving your system the right tools for smooth performance.
We care deeply about excellence and making sure you're happy with your expansion tank. Your peace of mind is our priority, and we'll work hard to make your plumbing system perform at its best.
Choose Aaron Plumbing, Heating, and Cooling for an unbeatable experience in installing expansion tanks. Together, we'll take your plumbing system to new heights.
The Critical Role of Expansion Tanks
Expansion tanks play a vital role in managing pressure changes in your water heater and plumbing system. When water heats up, it expands and creates more pressure in the closed system. Without an expansion tank, this pressure can harm your pipes, fixtures, and even your water heater, leading to leaks and costly problems.
With an expansion tank, your plumbing system gets a safety net. The tank allows extra water to expand and compress, absorbing pressure changes. This helps prevent damage and makes your water heater and plumbing last longer.
Our Expert Expansion Tank Installation Process
When you choose Aaron Plumbing, Heating, and Cooling for your expansion tank installation, we provide top-notch service and pay close attention to detail.
Thorough Assessment: Our water heater experts will carefully assess your plumbing system to find the best place and size for the expansion tank. We consider things like water heater capacity and incoming water pressure to make sure it fits perfectly.
Professional Installation: Skilled technicians will install the expansion tank following the best practices and local plumbing codes. We use high-quality materials and tools for a strong and reliable installation.
Seamless Integration: It takes skill and expertise to add the expansion tank to your plumbing system without any problems. Our team makes sure the tank works smoothly with your water heater.
Testing and Verification: We test the expansion tank thoroughly to make sure it's working properly and relieving pressure as needed. We won't finish the job until we know the tank is doing its job.
Choose Aaron Plumbing, Heating, and Cooling for Your Expansion Tank Installation
When it comes to your plumbing system, trust the experts at Aaron Plumbing, Heating, and Cooling. Our skilled professionals are great with water heaters and plumbing systems and have a great track record of doing top-quality work.
With our careful approach to expansion tank installation, you can feel confident that your plumbing system is safe and working well. Don't let your system get damaged or need expensive repairs. Get a reliable expansion tank installation with us.
Contact us now to schedule your expansion tank installation and see how working with the water heater experts at Aaron Plumbing, Heating, and Cooling makes a difference.